Coronavirus Updates
Posted March 10, 2020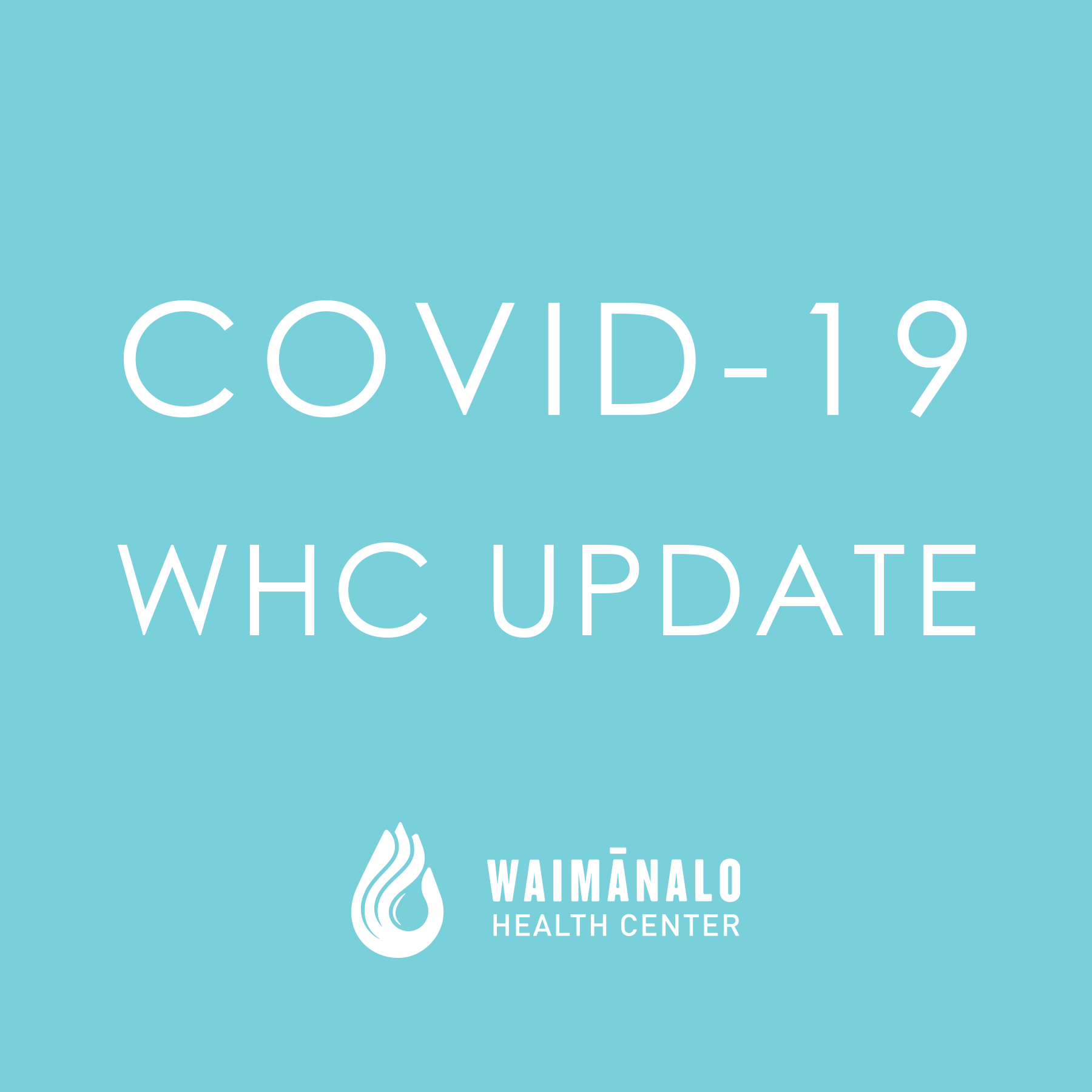 You can help protect yourself and others from the spread of illness.
Call ahead. (808) 259-7948
If you have fever or respiratory symptoms such as cough or difficulty breathing, please call us at (808) 259-7948 before coming to the health center. By calling ahead, precautions can be taken to prevent the spread of germs. Mahalo for your kōkua.
For a list of what we're doing at the health center, visit https://www.waimanalohealth.org/covid-19
Stop the spread of germs!
The virus spreads through respiratory droplets produced when an infected person coughs or sneezes. The most important thing you can do is avoid being exposed to the virus.
Avoid close contact with people who are sick.
Avoid touching your eyes, nose, and mouth with unwashed hands.
Wash your hands frequently.
Clean and disinfect frequently touched objects and surfaces using a regular household cleaning spray or wipe.

WET your hands with clean, running water.
LATHER them with soap. Make sure to get the backs of your hands, between your fingers, and under your nails.
SCRUB your hands for at least 20 seconds (about the time it takes to sing "Happy Birthday" twice).
RINSE your hands well with clean, running water.
DRY them with a clean towel or let them air dry.
If it is not feasible to wash your hands with water, you can use a hand sanitizer that contains at least 60 percent alcohol.
Resources
The spread, detection, and treatment of COVID-19 is continually evolving. Click below for more information.
03-25-2020 Update: COVID-19 Myths
Dr. Christine Lee, Chief Medical Officer, addresses some of the myths circulating regarding COVID-19.
Myth 1: I'm young and healthy. I don't need to worry about getting the virus. - A review of more than 4,000 U.S. patients who were diagnosed with novel coronavirus infection (COVID-19) shows that an unexpected 20% of deaths occurred among adults aged 20-64 years. According to the latest Morbidity and Mortality Weekly Report (aka MMWR, put out by the CDC) published on March 18, as of Mid-March in the U.S., almost 40% of hospitalized COVID-19 patients in the U.S. were between age 20-54 and almost half of ICU admissions were for patients younger than 64. Young and old alike should be taking this virus very seriously.

Myth 2: I can't pass it on if I don't have symptoms – Based on the experience in China, they found that many people who ended up having the disease had no known exposure. It is felt that this virus can be passed on even when a person is asymptomatic, although infectivity is most likely at the height of the symptoms, particularly fever. Also important to note is that even if younger people tend to have a more mild course of the disease, they can be asymptomatic carriers and pass it on to kūpuna, who are particularly susceptible. It is important for us to maintain protective efforts: clean your hands and frequently touched surfaces often, stay home if you are sick, practice social distancing, etc.

Myth 3: Anyone can be tested for COVID-19 – No. You must have a doctor's order and be indicated for testing. Because testing supplies are in critically short supply nationwide, testing is prioritized for the following:
Hospitalized patients with critical illness, regardless of exposure history
Influenza-like illness clusters in congregate settings (e.g., nursing homes, health care facilities, schools, etc.) with negative influenza PCR testing
Symptomatic close contacts of a confirmed case (with priority for healthcare worker contacts)
Myth 4: Coronavirus will recede in the warmer weather – We don't know. Many experts are projecting that COVID-19 cases could continue through the summer months. There are a wide range of variables that likely affect COVID-19's spread. Sunlight duration, population density, human behavior, public health interventions and individual healthcare systems can also influence how quickly the disease is passed from person to person. Taken altogether, it's impossible to predict whether COVID-19 will retreat when warmer weather rolls around. And even if it does, it likely won't fade completely.
Myth 5: There is a treatment for COVID-19 that will be available shortly. – You may have heard that a treatment will be available shortly. Chloroquine is a medication traditionally used to treat malaria that some have said will treat COVID-19. There have not been any significant clinical trials showing that this medication is effective or safe for treatment of COVID-19. It has not been sufficiently studied for COVID-19 and the FDA has not approved this medication for COVID-19 treatment. That said, according to New York's Governor Cuomo, New York state is began drug trials 3/24/2020 on the medications chloroquine, Zithromax, and hydroxychloroquine.
Myth 6: We are at a point where we can relax social distancing efforts. - We are nowhere near our goal of "flattening the curve" (the second graph below is a model of why this is important for the healthcare system). You can see by the first graph below that the U.S. cases are still on the rise and our numbers are growing exponentially every day.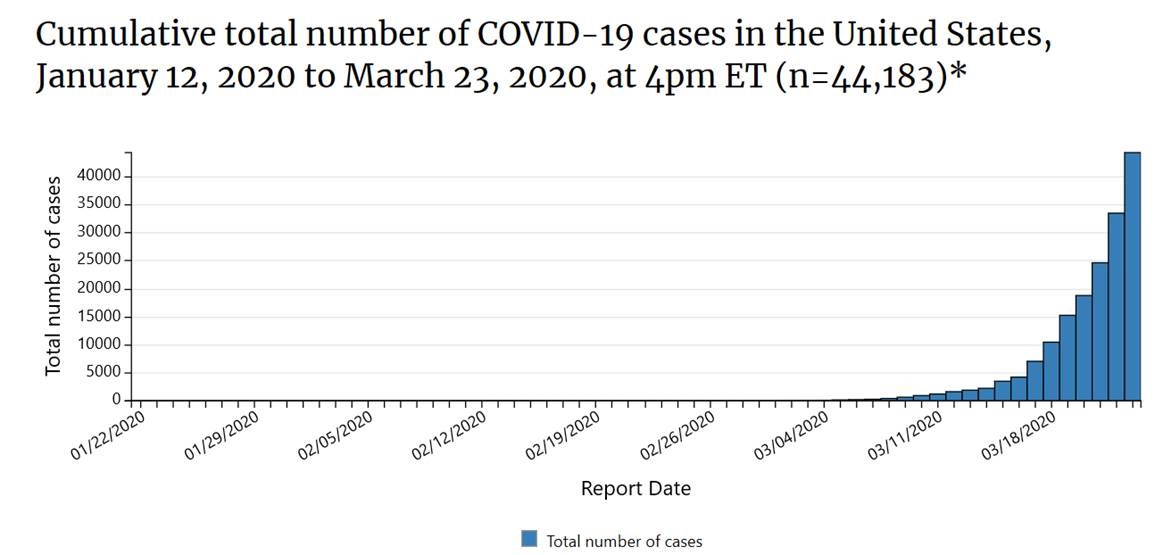 When comparing where the U.S. currently is in the graph above, to the model below, you can see that the U.S graph looks like the red "Without Protective Measures" rather than the blue "With Protective Measures". Our healthcare system is already overwhelmed. You see reports in the news about health organizations struggling to have sufficient PPE and ventilators. We ourselves are having to do our best to conserve and find PPE and hand sanitizer. It is extremely important that we continue our social distancing efforts!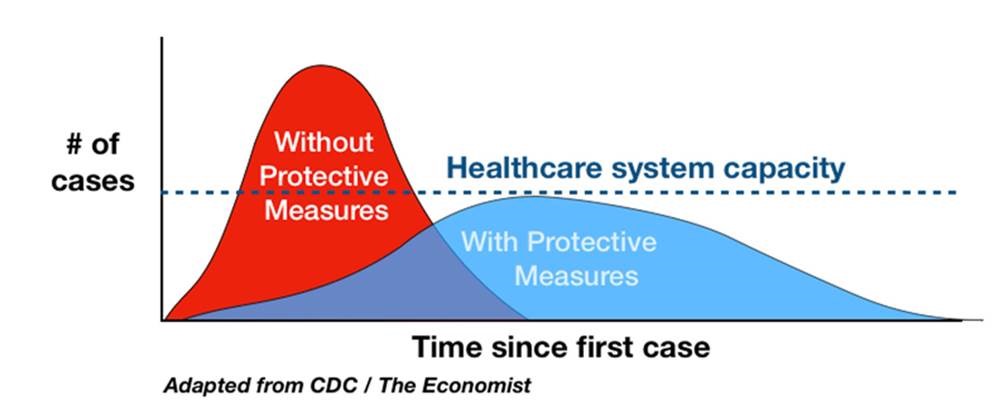 Interesting possible Non-myth: Anosmia (losing one's sense of smell) may be a sign of COVID-19. Out of 2000 patients in South Korea, where widespread COVID-19 testing was done, in 30% of those who tested positive for COVID-19, their major presenting symptom was anosmia – they could no longer smell. This symptom might alert doctors to the possibility of COVID-19.